Our Services
Shine Awn is the only FULL service awning company in the area.  We not only create high quality, attractive awnings and canopies, but we also keep them in the best condition possible so that your investment will last you for years to come.  From cleaning and repairs to taking down and storing over the harsh winter months, Shine-Awn covers all your awning needs.
Replace Your Awning Fabric
If you have existing awnings with a frame that is in good condition, you may opt to choose a cost-saving option like recovering your existing awning with new fabric.  We will remove the existing awning and bring it back to our shop where a  custom recover is done.  It is then reinstalled.
View Fabric Options from Sunbrella
Custom Awnings
We work with our customers to help them bring their awning ideas to fruition.  We can show you how new awnings will look on your building with graphics so that you can create exactly what you want.
Cleaning & Maintenance
We clean awnings using the best of current industry standards and use only detergents approved by the fabric manufacturers.  The awning is soaped, brushed and cleaned.  Any effected windows are cleaned and effected sidewalks are flushed clean from any dirt removed from awnings.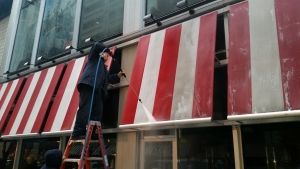 Winter Service & Storage
The harsh winter months can cause damage to awning fabric and accumulating snow can cause structural damage as well as tears and/or collapse.  Shine Awn offers winter take down service of awnings.  We can even store them at our facility.  Come Spring time the awnings are cleaned if you so wish and reinstalled.  This service can greatly increase the lifespan of awnings.
Power-Washing
Shine Awn also offers power washing services for both residential and commercial customers at a competitive hourly rate.  We can powerwash concrete, sidewalks, buildings, decks.  Our powerwashing is popular with restaurants and fast food establishments to remove debris and gum from sidewalks, drive-thru areas and garbage areas.